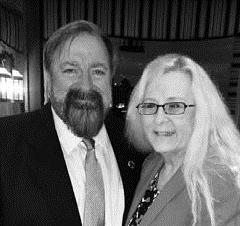 The Ancient Order of Hibernians has a tradition of honoring those who go above and  beyond in improving life in Louisville with the Irish Person of the Year Award; this year the award goes to Rev. Tim and Nina Moseley.
This husband and wife have turned Wayside Christian Mission from an overnight shelter for the homeless into a network of partnerships that not only pro- vides food and shelter, but offers opportunities to help people turn their lives around.
Rev Moseley was born in Little Rock, AR, and came to Louisville in 1978 after completing his B.A. at Ouachita Baptist University. He earned his Master of Divinity from the Southern Baptist Theological Seminary in 1982 and his Master of Science in Social Work from the University of Louisville's Kent School in 1983.
He completed social work internships at Louisville Memorial Primary Care Center and Central State Hospital, worked as a chaplain and chemical dependency counselor at Charterton Hospital and as an aftercare program supervisor and coun- selor at Charter Care. He volunteered at Wayside with the goal of working with people in poverty and got the Director's position the same year.
Nina Moseley grew up working in the family business, Victor Mathis Florist. She attended Loretto High School through her junior year, and transferred to Flaget High School for her senior year. She started at Wayside in 1988.
She earned a B.S. in Business Administration from the University of Louisville in 1994 and a J.D. from U of L's Brandeis School of Law in 1998.
The Moseley's bought an old hotel on Broadway for Wayside. They reopened the property as a hotel with two rates – an economy rate of a penny a night, and a regular rate.
Wayside Christian Mission serves as a shelter but also provides a path to a pro- ductive future for its clients including being a training site for hotel jobs.
The Mosleys are truly deserving of The Ancient Order of Hibernians Irish Person of the Year award.