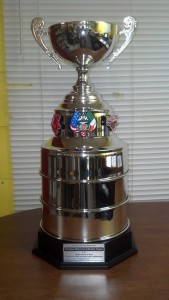 Although not as well known or as old as another Louisville Catholic high school football rivalry, the annual Holy Cross and DeSales is just as intense.
Every year the winner of the DeSales/Holy Cross Rivalry Football Game will take away a prize other than just owning the bragging rights in South Louisville.  The Ancient Order of Hibernians (AOH) created the Hibernian Cup ina trophy that will travel year to year to the winning school.
"We've been honored to present the Shillelagh Trophy to the winner of the Saint Xavier and Trinity game for decades," Mark Wakefield, AOH president, said. "However, it seemed as if other major rivalries among area Catholic schools were being overlooked.
"We created the Hibernian Cup after discussions with both presidents, Tim Weihe at Holy Cross and Doug Strothman at DeSales," Wakefield said, and he will watch "the battle between the two schools. AOH members will proudly present the cup to the winning team."
The AOH first presented the three-foot tall Hibernian Cup to students at each school a week prior to thier annual game in 2013.
"The students in area catholic schools compete with each other as rivals all through grade school as well as high school. They learn many lessons as well as how to compete," Wakefield said. "They are all winners in many ways but only one school wins a trophy each year in their rivalry game."
The A.O.H. is an Irish-Catholic organization with over 130 members in Louisville. It is the oldest and largest Irish cultural organization in the U.S. with roots back 300 years to Ireland. The organization supports Irish culture and local charities in Louisville and is sponsor of the annual St. Patrick's Parade.